de_blackchristmas
3 replies
1
sOn_of_a_BirCH
User
Offline
Admin/mod comment:
You posted in the German section. Please note the flags. Moved.
1uP
User
Offline
its looking pretty decent, gj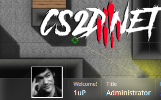 sOn_of_a_BirCH
User
Offline
its been a while since i posted something here, i didnt remember how this board works
Rainoth
Moderator
Offline
Upload your file into the file archive. I'll keep this open in case someone wants to discuss something about the map (although that's what file archive comments are for but whatever).
MAL
DeviantArt
For Wallpaper Engine users
Check YT for playlists...
1