Cannot start cs2d.exe!
13 replies
1
Cannot start cs2d.exe!
12.07.15 03:26:03 pm
Cs2d was working fine till yesterday,
Today when i just open it i found a critical error,
Tried up many things,
Its working with the old version,
But when i open the new version the error is shown and cs2d.exe is deleted automatically!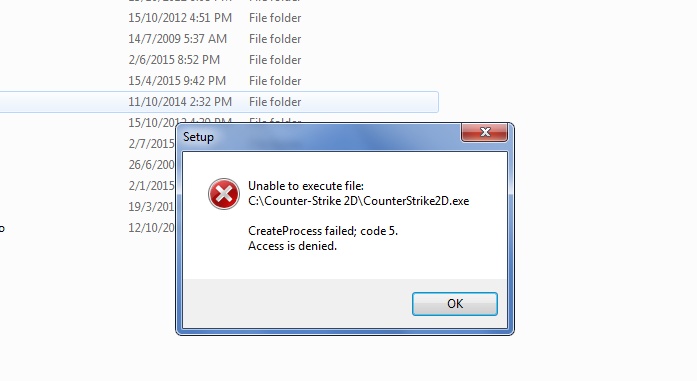 DC
Admin
Offline
Restart your PC and try again.
If this doesn't help:
Try overwriting your CounterStrike2D.exe with the one from
http://www.unrealsoftware.de/get.php?get=cs2d_0127_win.zip
Alternatively try to re-install the game completely.
If this also doesn't help:
Run a virus check
Run the game as administrator
Run windows update
Install your latest video card drivers
Use launcher.exe and try different modes to launch the game
Tonic
User
Offline
I have this problem too. Its start few minutes ago
. Reinstall not help! What wrong with cs2d? Plus three antivirus says its have FilerepMalware virus!
Right!
And i am not even able to extract the zip file it says,
Code:
1
2

! C:\Users\win7\Downloads\cs2d_0127_win.zip: The archive is either in unknown format or damaged
! Cannot execute "C:\Users\win7\AppData\Local\Temp\Rar$EXa0.746\CounterStrike2D.exe"

I tried to download the setup,
And reinstalled,
Nothing helped,
Some time the error says,
CS2D.EXE is a virus!
-__-
I suppose you are usung Avast antivirus? Anyway, add CS2D executables to whitelist, and think of changing antivirus software.
GeoB99
Moderator
Offline
Ajmin has written:
CS2D.EXE is a virus!
What AV do you use in your computer?
Some Anti-Viruses may detect the cs2d executable binary as a virus but is just a false positive and is not a real virus.
You might want to change the AV to something more worth.
I suggest Qihoo 360 Security as replacement for your antivirus.
Maybe your download is corrupt, but im not sure...
I strongly disagree using Qihoo 360. It itself is a virus. Use Microsoft MSE or Avira/AVG. For Paid try Gdata, TrendMicro, F-secure and Norton. Anything but never 360 and its related products.
I hope its not the problem of AV,
As u see in the screenshot,
The system is giving the error.

And even the winzip gives me error,
Such errors were popular when i download craps.
@
Talented Doge
: Youre from HK right? Well no offence, it's sublimal that you disagree to 360 because it's from china, coz you know, that invasion stuff last year. If this comment offend you then I'm sorry.
@
Ajmin
: Please post your PC specification so that I can analyze the problem.
It's not related to the origin of it, but the reported cases of using it. Many 360 users in Asia, especially Mainland China and Hong Kong, has encountered 360 making destructive changes to their system, including hijacking the homepages of browsers, or faking MS updates. I suppose that the International version looks less threatening, but it's China version is bad as hell. Deciding using ot or not is up to you. Even before the Umbrella Revolution I still disapprove of using 360.
DC
Admin
Offline
Just add an exception to your anti virus software. Of course CS2D is NOT a virus (at least if you downloaded from the official site).

One possible reason for this is that BlitzMax (the language used to write CS2D) might be used by others to write malware. So anti virus companies add the signature to their virus definitions and it then gives you a (false) alarm for all applications written in BlitzMax because of the similar signatures.
@
Talented Doge
: I've been informed badly. I'm glad that i'm not from China so i'll be assuming that 360 is safe. Last is just an observatory post.
Finally its fixed!
The anti-virus was the problem!
Thanks everyone!
1